Wireless Car Projection LED Projector Door Shadow Light
Quantity Remaining:
1434 of 1500 Sold
Viewing This Product
Hurry, Offer Ends in:
4 Great reasons to buy from us:
SPECIAL OFFERS AND PRODUCT PROMOTIONS
PRODUCT DESCRIPTION
It is suitable for all vehicles, lighting steady and constant, clear and soft.
Easily to install it by yourself with the 3M adhesive sticker, wireless design, no more troubles of making holes.
Magnet sensor design. It will light up when you open the door and the light turn off once you close the door.
This product is specially designed for auto modification fancier; we purpose to bring more driving fun to drivers.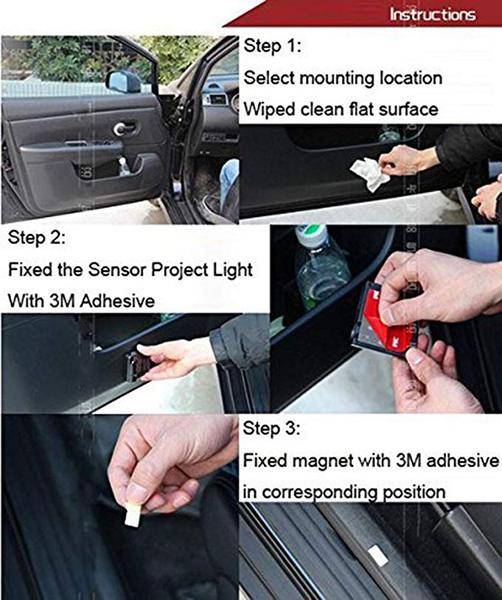 Put 3 pcs AAA(1.5V) batteries in the battery case and install them according to the positive & negative as marked in the case.

Stick the Magnet on the bottom of the car frame. Stick the car light on the car door. The distance between the Magnet & Car light is about 10mm. When you close the car door, the Magnet is at the under face of the sensor on the car logo light.

When you open the door, the logo will be shown on the ground, and it will turn off automatically after 2 minutes. If you want the light on/off, just need to press the button on the head of the light.